Special Needs Community
Chip Dee had been a professional musician and certified music educator for over 30 years.  In addition to performing throughout the country and abroad, Chip has also been very active in music education for special populations.  Chip has set up music programs for special education departments in the Teaneck and Ridgefield, NJ School Districts, catering to all classified children from Pre K through to High School.  These programs also include annual variety shows put on and performed by all grade levels of the special needs population.  Chip has directed Special Education Summer recreation programs and has also served as music director for ECLC School. 
In addition, Chip Dee created and developed a music program for geriatrics in Brooklyn, NY, as well as authoring a grant for the NY State Office of Mental Health and creating a music program geared specifically for psychiatric patients entitled "Music as a Second Language", which was an instructional and performance based program.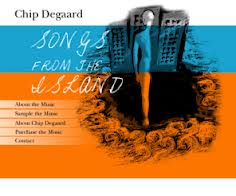 As a composer/lyricist, Chip Dee has had several songs recorded by other artists in addition to his versions. Chip is a known and gifted arranger whose comfortable in all styles. It was while living in New York that Chip became interested in how music affects human behavior. This drew him to working with music in a psychiatric setting which ultimately led to the creation of "Songs from the Island."
"Songs from the Island" is a collection of songs inspired by and based on observations of psychiatric patients in a large psychiatric institution. The songs are created and sequenced to reflect the trials and tribulations of the whole trip through the bureaucratic system.
We begin by being picked up on the streets and taken to the facility where we enter into the various stages of institutionalization. We see the different faces and behaviors of mental illness, the treatment being given, how it is received and its outcome as expressed by staff and patients. Ultimately, it is the clients own perseverance and survival skills which will determine who can last the ordeal.
For more on Special Needs, Music and Community see our blog here.